Traditionally, slip resistant shoes were mostly associated to work environments, especially for industrial purposes. However, over time, fields such as athletics started fitting their products with such designs. Basically, it was an exceptionally exclusive footwear feature and has become somewhat difficult for the traditional user to navigate.
However, it was not long before the public started to demand waterproof and slip resistant footwear for everyday use. As a result of this development, brands have had to find ways to ensure each shoe has this feature.
That said, there is no standard for "slip resistance" footwear, and you have to consider various factors. The guide below should be to find ways on how to tell if shoes are slip resistant:
How Do You Tell if Shoes are Slip Resistant?
A slip resistant shoe is a type of safety shoe which you can use for different purposes. As you can gather from the term, non-slip shoes ensure wearers don't slip or fall or floor surfaces. These include surfaces that are oily, wet or even slick.
The key factor that sets them apart from traditional footwear would be the rubber outsole structure. It should provide optimal traction and grip – which makes them ideal for health care purposes. Even if OSHA (Occupational Safety and Health Administration) requires workers to put on slip resistant footwear, there is more to these shoes than meets the eye.
The ideal slip resistant shoe prevents hazards, and has a suitable pattern for encouraging the movement of water on the sole. When shopping for non-slip footwear, it's good to be well informed. It all boils down to the perfect combination of sole structures, tread patterns and designs.
The best slip resistant shoes Walmart are a common alternative for footwear owners. That is because Walmart and other brands like Nike have an affinity for high-quality products. Such shoes provide optimal grip on different surface types, as you move around or stand. Below are the other common aspects to lookout for in non-slip footwear:
Padded collars.
A versatile and flattering design.
Arch support structures and orthotic footbeds.
Well-structured toe boxes.
Stain and water-resistant upper materials
Soft and compact EVA rubber outsoles.
1. Check the Outsole
Realize that slip resistant shoes have a specific anatomy, particularly when it comes to the outsole structure.
If you are not aware, "outsole" is a common term in the footwear niche. It's a term referring to the bottom section of a shoe that gets in touch with the ground. If you are rook for slip resistant and waterproof shoes, consider the structure of the outsole. The structure of the outsole is also important for when you want footwear that won't squeak on the floor.
Usually, the density, material, shape and thickness combine to make a shoe slip resistant. A few things to check on the shoe outsole include:
The tread.
The material.
The grip rating.
If you want a good comparison with a non slip resistant shoe, take a look at the one below:
2. Check the Tread
People who prefer shoes with quality treads often confuse the term "tread" with the "outsole." However, these are two different items.
The best way to classify the tread would be as a defining aspect of your shoe's out-sole. To specific, it's a term that refers to the grooves on your shoe's out-sole.
As you can image, different shoe types feature varying tread designs. Your preferred tread type depends on three aspects:
The groove patterns.
The depth of the grooves.
The groove type.
The Groove Type
Based on the traditional elementary science concepts, you are probably aware that friction and surface are share a direct co-relation. In essence, this means that having more of your shoe surface touching the ground can improve its grip on the floor surface.
A good example would be the tread on Formula One Race Cars. Usually, these vehicles don't have any grooves, to make it easy for the cars to move around the race tricks with optimal traction. So, you might ask, why does a shoe out-sole have grooves? Doesn't that compromise the surface area of the wheels?
You have to realize the asphalt race tracks often contain a specialized resin product. Plus, the road surface is never loose, oily or wet. Unfortunately, these conditions are not the same in the real world. It's the main reason why shoes have grooves, and this the same thing to expect on traditional car tires.
The main cause of footwear slipping would be that water is a naturally cohesive product. That's because water molecules tend to stick together, and can develop droplets. If you have a flat out-sole, then water does have any other place to runoff.
Such an issue will lead to slippages. However, grooves act as a channel for the water, and help it flow away from your sole. The same principle applies for surfaces such as mud, sand, and various other surface that compromise surface contact – between your shoe and the ground.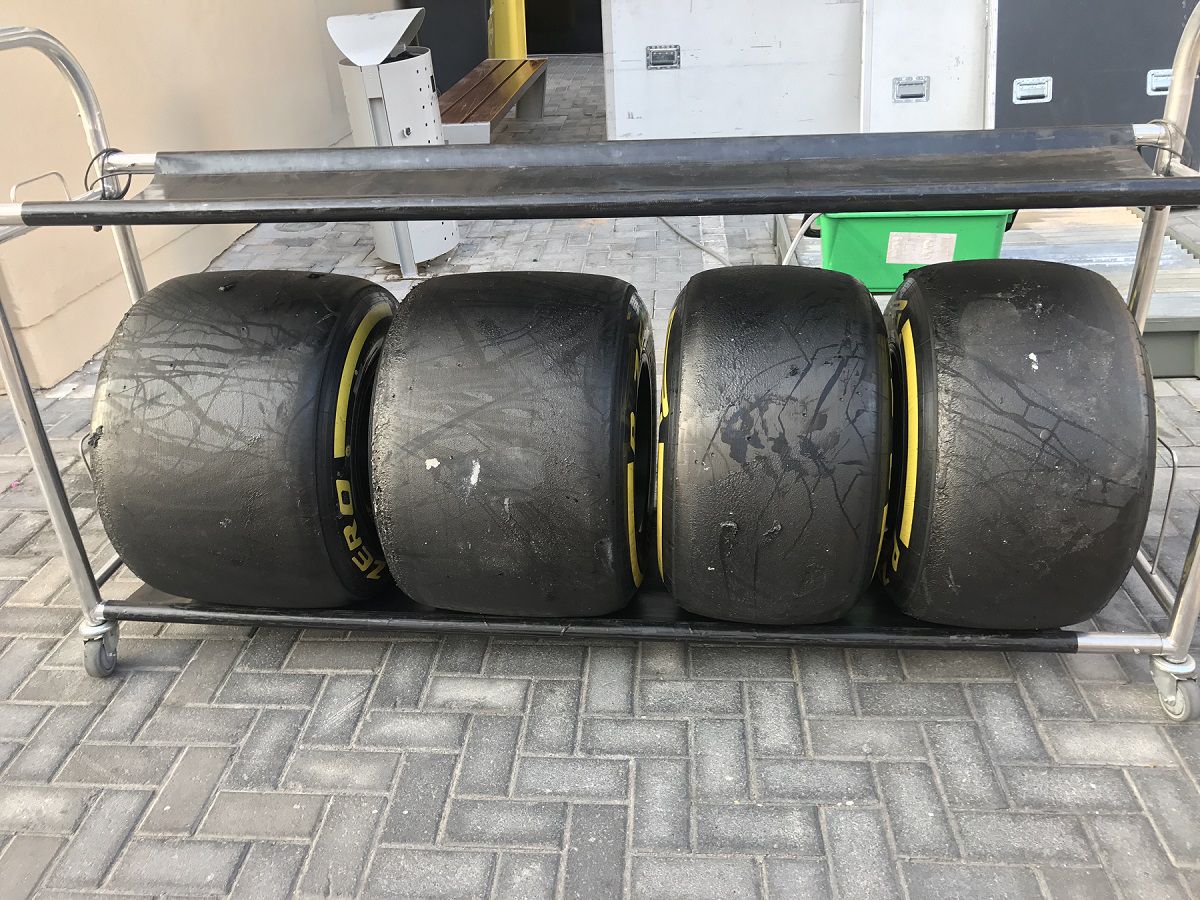 The Groove Pattern
If you ever looked on the bottom section of your footwear, you might have noticed the unusual tread patterns. That's because most brands like to be differentiated from other similar footwear companies – and the underlying goal of these treads is to make your shoe slip resistant.
Even its not obvious to the footwear owner, pattern is important for specific slip resistant applications. For instance, if the patterns are closed off, then water does not have any where to run off. These types are suitable for the outdoors.
However, the circular tread patterns that feature rounded out-sole edges are ideal for water runoff purposes from your footwear. These out-sole types are suitable for different outdoor environments.
The Depth of the Grooves
Usually, the groove depth often varies between different types of shoes.
For instance, outdoor boots come with deep grooves, which move through outwards to the lugs. These grooves feature teeth like grooves, that move into the deep section of the earth to provide grip.
The depth of the lugs has a major impact on the traction it provides. On the contrary, running shoes and everyday footwear don't have similar lugs. That's because these footwear types are not suitable for ordinary surfaces and everyday use.
4. Learn More About the Shoe's Grip Profile
Just as previously mentioned, there are different tread types out there. The tread type you prefer has a major impact on the your footwear can provide.
The micro and macro grip are umbrella terms used to refer to the grip a shoe can provide. Below is a description of both grip types:
Macro grip which refers to the type of grip you will find on large lugs and grooves. Often, these footwear types are ideal for snow surfaces and terrains. They work perfect for getting the shoe to touch the surface below. Footwear such as snowshoes, trail shoes and hiking shoes feature this type of grip.
Micro grip is also a type of grip which comes from small grooves. These footwear types are ideal for paved and hard packed surfaces.
5. Determine the Rating of the Grip
Most companies claim to produce slip resistant footwear. However, you have to realize that a slip resistant shoe has many aspects you have to consider. This fact means that there is no universal grip rating or traction system for footwear.
That said, some shoe brands use a specialized scale referred to as the "Co-efficient of Friction" for grip ratings. The scale has metrics that average between 0.00 to 1.00. The COF rating has a direct co-relation the grip the footwear provides, and 0.40 is the typical standard.
Tips to Make Your Shoes Slip Resistant
Even if you are done choosing the best footwear for everday use, you can still find ways to improve its slip resistance levels at home. Below is a quick rundown of some helpful DIY tips for improving the shoe resistance levels of your footwear:
Use a Carpenter's File – a nail file is easy to find, and you can use to scuff the sole on your shoes for improved traction. Many people on reddit have mentioned that a carpenter's file works best for non slip resistant restaurant shoes.
Use adhesives – you can put band aids to help improve the grip your shoes provide. You may need upto 2 band aids for you to achieve the best results.
Use puff paint – puff paint is readily available in local craft stores. Use it to set a thin coat of puff paint to the bottom section of footwear.
Use some hairspray – hairspray on the bottom section of footwear acts as an excellent quick fix solution. The good thing is that you can just apply a small amount for the best results. You can this technique convenient for non slip nike shoes.
Use an ankle strap – you can set an ankle strap on your footwear to provide optimal balance, grip. However, avoid using the dense ankle strap types as they can be uncomfortable.
Scuff the shoe outsole – performing scuffing on your footwear will help improve its traction.
FAQ
How Do You Know If Shoes are Slip Resistant?
The best way to know if shoes are slip-resistant will be to evaluate the grooves or tread pattern. The ideal tread pattern should provide optimal grip over different surfaces and be comfortable for your mobility needs.
How Do I Make Sure My Shoes Don't Slip?
There are various ways to ensure your shoes won't slip. You can work on the grooves by making a few significant adjustments. Use the recommendations we have on the list above for helpful suggestions. The other helpful suggestion for you would be to determine if the shoes or boots are a too big first. Shoes or boots that are too big are prone slip issues, especially on unusual floor surfaces.
What is the Difference Between Anti-Slip and Slip Resistant?
There is no difference between anti-slip and slip resistance footwear. Both footwear types have specialized grooves to walk over different types of slippery surfaces.
Are Vans Slip Resistant?
Yes, vans are slip-resistant. The footwear is also comfortable, durable, and stylish. These are the reasons why vans are popular across the world. The same concept applies to when someone asks, "are converse non slip?" Converse footwear have a excellent soles that make them non slip footwear.